5 Lakes Lodge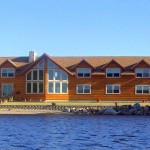 Luxurious Waterfront Bed and Breakfast Lodging Overlooking Maine's Mt. Katahdin & Baxter State Park
If you are looking for the best place to spend a few nights in Millinocket and the Katahdin region, look no further than 5 Lakes Lodge!  Owners, Debbie and Rick, will go out of their way to see that your trip meets and exceeds your expectations.  You will be amazed by the luxurious decor of the inn.  We loved sitting at night in front of the large and welcoming fireplace in 5 Lakes Lodge's great room!  Each guestroom is equipped with a jacuzzi hot tub and gorgeous views of Mount Katahdin and Baxter State Park.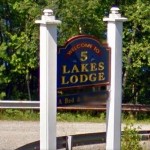 The included breakfast at 5 Lakes Lodge is always varied and wonderfully home-cooked!  From fresh fruit pancakes to homemade muffins and more.  Enough cannot be said about the great "at home" feeling at 5 Lakes Lodge and it's sociable owners.  Whether hiking, snowmobiling, hunting or fishing and more; you can find it all from 5 Lakes Lodge.
Contact 5 Lakes Lodge
46 Marina Drive
South Twin Lake
Millinocket, Maine 04462
207-723-5045
Email: info@5lakeslodge.com
website link:  5 Lakes Lodge

from their website:  "5 Lakes Lodge Bed and Breakfast is located on what we refer to as, "the other coast of Maine" – the boundary of the largest undeveloped wilderness area east of the Mississippi.
Yet, we're conveniently located just 20 miles from I-95 (exit 244), 75 miles from Bangor, two hours from Bar Harbor, and an easy five hour drive from Boston. Millinocket Airport, with a 5,000 ft. runway, is 8 miles away.
And Yes, we have free WiFi throughout the Lodge and most cell phone carriers have service here."