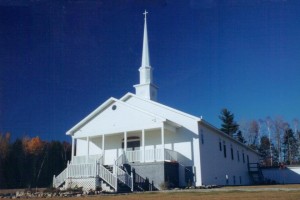 Tri Town Baptist Church is located in the Katahdin region of Maine.  It is in the town of East Millinocket and many worshipers each week attend church services there.  If you are of the Baptist faith, or just want to learn more about the Congregational faith; please drop by and check out a service at this great church.
Sunday school 10:00 am
Worship 11:00 am
Evening Service 6:30 pm.
Sunday school starts at 10AM! Donna Fuller teaches ages 4-7; Stacie Johnston teaches ages 8-12; Pastor Fuller teaches the teens. Morning service starts at 11AM, with a baptism service immediately following. This is the day that the Lord hath made! We will rejoice and be glad in it!
Contact: Tri-Town Baptist Church
8 Cone Street
East Millinocket
ME 04430
Phone:  207-746-2211
"Baptists" are Protestant Christians who comprise a group of denominations and churches that subscribe to a doctrine that baptism should be performed only for professing believers (believer's baptism, as opposed to infant baptism), and that it must be done by complete immersion (as opposed to affusion or sprinkling). Other tenets of Baptist churches include soul competency (liberty), salvation through faith alone, scripture alone as the rule of faith and practice, and the autonomy of the local congregation. Baptists recognize two ministerial offices, pastors and deacons. Baptist churches are widely considered to be Protestant churches, though some Baptists disavow this identity.