Two Rivers Canoe Tackle Guns Medway ME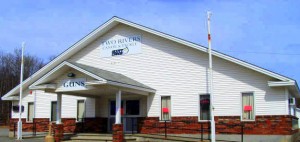 At Two Rivers Canoe in Medway, Maine, they buy, sell and trade guns and also carry a large variety of ammunition and black powder rifle and shooting supplies. They are specialists in selling outdated and hard to find ammo. You can buy from over 150 calibers that they have in stock.   At "Two Rivers Canoe and Tackle", you can shop for Hunting Clothes and all your other Hunting supplies. They also sell Resident/Non-Resident Hunting & Fishing Licenses!
Two Rivers Canoe and Tackle – Fishing and Fishing Supplies
They feature all fishing supplies from dry flies to lead-line and everything in between. Buy tackle to target Trout, Salmon, Togue, Bass and many more fish types. Two Rivers Canoe is located just across Route 157 and the railroad track from the West Branch of Penobscot River.   Whether East Brach or West, each branch of the Penobscot offers up unforgettable fishing locations for Bass, Salmon, and Trout. Many local fishermen stop by daily and keep Two River Canoe staff up-to-date on the hottest lure or fly or fishing spot.  Fishing rods that are offered feature Hardy, Greys and St. Croix Rods Spinning/Spincast and Lead Line Outfits Sperry and Stevens Nets and more.   Fishing Supplies, including 20,000 Flies in Stock,  Handmade Pack Baskets and Resident/Non-Resident Fishing Licenses!  Phew!  That's a lot!
The Maine Freighter Canoe at Two Rivers Canoe and Tackle Maine Freighter
The Maine Freighter Canoe has graceful lines and the stability of the Scott 21′ Hudson Bay with newer lay-up technology, and a host of other changes to make the new canoe more rugged and user friendly.
The Maine Freighter now has three full-width seats, a smooth floor, and no thwarts making moving around easier. A new 1″ drain plug system and spray rails are now cast into the hull, rather than being bolted on afterwards.
The Maine Freighter is a wonderful blend of the old style and the new style, and is available now at Two Rivers Canoe & Tackle!
Shop Hours
Tuesday – Saturday 8 am – 6 pm  Sunday 10 am – 5 pm
Address:  PO Box 305 | 2323 Medway Rd
Medway, ME 04460
Telephone:  (207)746-8181
Email:  bigcanoe@midmaine.com
Website:  Link
Find Two Rivers Canoe on Facebook