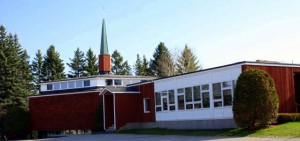 St. Andrew's is an Episcopal Church located in the Katahdin region of Maine.  It is in the town of Millinocket and many worshipers each week attend church services there.  If you are of the Episcopal faith, please drop by and check out a service.
St. Andrew's feels like family. We care for and love each other. We are sustained by the power of our faith.  Situated in the gateway to Northern Maine and Baxter State Park.
REGULAR WORSHIP TIME:
SUNDAY 9 AM
Please Join us!
Clergy
Priest-in-charge:
The Rev. Levering Sherman:  lbsherma@yahoo.com
Vocational Deacon:
The Rev. Robert Landry
 "St. Andrew's Episcopal Church" | 40 Highland Avenue | Millinocket , ME 04462 | Phone: (207) 723-5893 | Website
The Vestry and Officers of St. Andrew's Episcopal Church
Margaret Bond,  Senior Warden
Joe Harmon,  Junior Warden
Leslie Jenkins,   Treasurer
Bonnie Friel,    Assistant Treasurer
other Members of the Vestry:
Dottie Friel, Clerk
Fay Flynn
Raelene Comstock
Dick Norris
Cathy Landry
Beverly Bubar