Listing of businesses in Mattawamkeag, Maine 04459.
Click here and add your Mattawamkeag business.

[widgets_on_pages id="Mattawamkeag Businesses"]
About Business in Mattawamkeag, Maine 04459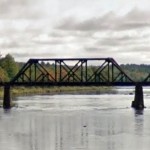 Mattawamkeag is a town in Penobscot County, Maine, United States, located where the Mattawamkeag River joins the Penobscot River. The population was 687 at the 2010 census.
Contact The Mattawamkeag Town Office
Address: Po Box 259
Mattawamkeag, Maine 04459
Telephone: 207-736-7013
Find Mattawamkeag on Facebook
More Mattawamkeag Information
Mattawamkeag's history is inextricably linked to the railroad.
The European & North American Railway built a track up the Penobscot River valley from Bangor and reached Mattawamkeag in 1869. By October 1871 the line was completed from Mattawamkeag to Vanceboro, where it connected through to Saint John, New Brunswick, Canada. The Maine Central Railroad leased the Bangor-Vanceboro E&NA in 1882 and purchased it in 1955.
As of the census of 2010, there were 687 people, 317 households, and 197 families residing in the town. The population density was 18.2 inhabitants per square mile (7.0 /km2). There were 407 housing units at an average density of 10.8 per square mile (4.2 /km2). The racial makeup of the town was 98.0% White, 0.1% African American, 0.9% Native American, 0.1% Asian, 0.1% from other races, and 0.7% from two or more races. Hispanic or Latino of any race were 0.6% of the population.
There were 317 households of which 20.2% had children under the age of 18 living with them, 47.6% were married couples living together, 8.8% had a female householder with no husband present, 5.7% had a male householder with no wife present, and 37.9% were non-families. 31.5% of all households were made up of individuals and 12.9% had someone living alone who was 65 years of age or older. The average household size was 2.17 and the average family size was 2.66.
The median age in the town was 50.4 years. 15.1% of residents were under the age of 18; 5.9% were between the ages of 18 and 24; 18% were from 25 to 44; 41.5% were from 45 to 64; and 19.5% were 65 years of age or older. The gender makeup of the town was 50.9% male and 49.1% female.