Jehovah's Witnesses, Patten , ME  04765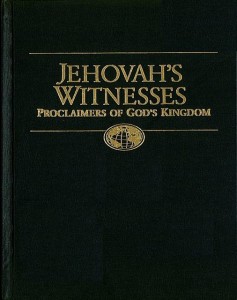 JEHOVAH'S WITNESS Kingdom Hall is located at HOULTON RD in Patten, Maine, United States, 04765 and can be contacted by phone at (207) 834-6486.
Houlton Road
Patten, ME 04765
207-834-6486
Jehovah's Witness Kingdom Hall

More about Patten Jehovah's Witness Kingdom Hall
Jehovah's Witnesses is a millenarian restorationist Christian denomination with nontrinitarian beliefs distinct from mainstream Christianity.  According to the 2014 Yearbook of Jehovah's Witnesses, as of August 2013, the organization reports worldwide membership of over 7.9 million adherents involved in evangelism,  convention attendance of over 14 million, and annual Memorial attendance of over 19.2 million.  They are directed by the Governing Body of Jehovah's Witnesses, a group of elders in Brooklyn, New York, that establishes all doctrines.  Jehovah's Witnesses' beliefs are based on their interpretations of the Bible and they prefer to use their own translation, the New World Translation of the Holy Scriptures. They believe that the destruction of the present world system at Armageddon is imminent, and that the establishment of God's kingdom on earth is the only solution for all problems faced by humanity.
A "Kingdom Hall" is a place of worship used by Jehovah's Witnesses. The term was first suggested in 1935 by Joseph Franklin Rutherford, then president of the Watch Tower Society, for a building in Hawaii. Rutherford's reasoning was that these buildings would be used for preaching the "good news of the Kingdom." Jehovah's Witnesses use Kingdom Halls for the majority of their worship and Bible instruction. Witnesses prefer the term "Kingdom Hall" over "church", noting that the term often translated "church" in the Bible refers to the congregation of people rather than a structure.