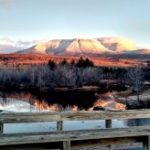 @admin
Active 1 month, 1 week ago
Hi everyone. Just a little note to let you know that you can upload a profile pic (we call it an avatar) and leave status updates, photos, website links and more at your profile page. Look to the right. See your link in the "Who's Online" section? Click your name and then you will be at your profile page.
View
Excellent video of Millinocket Lake & Mt Katahdin

A great video shot across Millinocket Lake in Maine during evening and sunset.  The video starts looking at Mount Katahdin, the crown jewel of Baxter State Park and shows the viewer many views of the lake and Lake Road, leading to the lake.  The video ends with Mount Katahdin in late evening with a great sunset shot.  Thanks to user satajet883 at youtube for uploading the video.

Millinocket Lake and Mount Katahdin, Maine Video from Youtube.